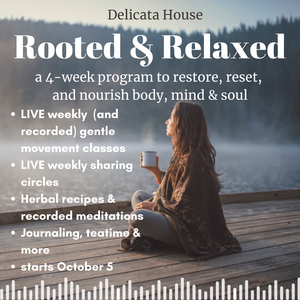 The Fall season is a favorite for many. We enjoy the mild days and cool, crisp evenings, the color of the turning leaves, and the feeling of change in the air. There's a sense of anticipation and also instability as we shift toward the colder, darker months.
Fall is also right before we enter the bustle of the winter holidays when many of us are called upon to create warm and beautiful memories for the people in our lives. And if you're feeling tired after a long, busy summer spent gardening, canning, working, traveling or hosting company, you might feel like saying, "Stop!!! I need a break!"
In order to use your creative gifts for yourself and those you care about, you need to be filled and nourished from the inside out. As a giver to those in your family and community, you can forget that you need to be nourished in order to nourish others. You need to tap into an inner storehouse of calm to center you during busy times. To experience replenishment and restfulness.
It's so easy to say, "I'm too busy," and put your own needs aside. But you can't do that forever! Ignoring your own needs only leads to burnout and illness in mind, body, and soul. So many women get to midlife and their bodies just want to stop. Metabolism slows, anxiety rises, energy levels sink, sleep problems develop, interest in life's activities wane, and it's not just because of your age; it has a lot to do with how well you care for yourself.
I once heard someone say, "The person in charge of your to-do list is YOU! YOU are the only one who can change it." And YOU need to be at the top of that list. Not because you're selfish, but because you love and care for yourself first. So that you can love and care for all the people who rely on you.
In Rooted & Relaxed, my 4-week program for the Autumn season, (October 5- November 1) I am offering you an opportunity to reset and rebalance with practices that will support your nourishment and inner healing. In these four weeks, you will become more grounded, peaceful, and at ease within yourself. 
You will have access to this program forever. If you were a student last year, you can join this year's cohort for FREE.
Benefits of Rooted & Relaxed:
learn tools to nourish yourself anytime
feel relaxed in your body
experience a more peaceful mind
feel more connected with yourself
feel connected to others in a caring, loving community
Here's what's included in Rooted & Relaxed: 
weekly LIVE Zoom gentle movement classes with easeful flowing exercises from yoga and qigong (Friday mornings)
once a week LIVE Circle on Zoom for reflection, sharing, and connection with others (Thursday evenings)

once a week LIVE Zoom teatime (Tuesday afternoons)



once a week recorded meditation  
once a week herbal medicine making video (recorded)
weekly journaling questions and more
we start October 5!
Bonuses!!!
I'm including two bonuses for everyone who signs up for this program.
20% off code for Delicata House website (Use as many times as you like. Good thru 12/31/23)
20% off code for one future class series, course or program (good thru 12/31/24)
Give yourself the gift of nourishment, balance, and healing in this season of transition before the winter holidays arrive.
Allow your body, heart, and mind to find a sense of equanimity.
Find your personal, inner storehouse of good things for your own wellbeing, that will, in turn, benefit those around you.
If you feel a pull toward this, it is your inner wisdom, your intuition talking to you. Listen to yourself and join me on October 5 in Rooted & Relaxed. You will be so glad you did!