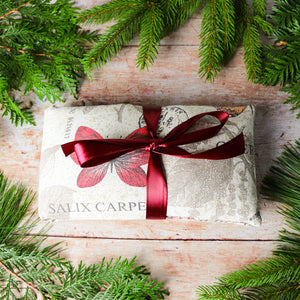 This microwaveable flax and lavender heat pack/warming pillow will soothe and relax aching muscles with the calming scent of lavender.

I handcraft each pillow by choosing beautiful cotton fabrics, using fresh flax seed purchased from an Amish market near my home and adding just enough lavender flowers to offer a subtle scent when warmed. This fabric is a butterfly soft cotton duck and is finished off with a burgundy satin ribbon, perfect for gift giving.

The size is perfect for draping over shoulders or placing at the small of the back.
Dimensions are approximately 18.5 inches by 5 inches.

To use: Remove ribbon, place pillow in clean microwave oven and heat on high 1-3 minutes, shaking the pillow after each minute to avoid hot spots and ensure it is heated to your preference. When suitably heated, place on shoulders, neck, knee, etc.
The pillow can also be placed in a plastic bag in the freezer. Although the flax seeds will not freeze, they will provide cold relief.

(Health Disclaimer: Any statements or claims about the possible health benefits of any product I make and have for sale on my website have not been evaluated by the FDA and are not intended to diagnose, treat, prevent, or cure any disease or condition. Please see your health care professional if you need medical treatment of any kind.)

FREE SHIPPING on orders of $59 and more in the U.S.